Praxis der Softwareentwicklung (PSE) - Graphical editor for "Liberty" files
type:

place:

Online as long as needed, otherwise:

Technologiefabrik
Room B2-316.4
(Bldg. 07.21, 2.OG)

time:

by agreement

SWS:

4

ECTS:

6
In the hardware design flow, we store behavioral information of basic components in so called "cell libraries". These libraries are stored in the "Liberty" format, which is a simple text-based file format. Nevertheless, these files usually contain thousands of lines of information. making it hard to read or compare them as text.
We want you to develop a graphical desktop application for Linux that can read and visualize Liberty files. Your tool should be able to boil down the magnitude of information using statistics, i.e. showing histograms and mean values for easy comparison. Also we want to be able to combined files and apply custom operations to generate new files in the process.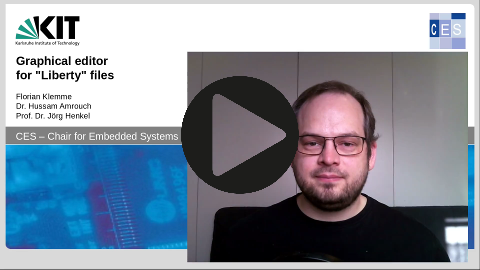 Watch the video presentation again!
This semester the project will start online and we will have online meetings as long as needed.