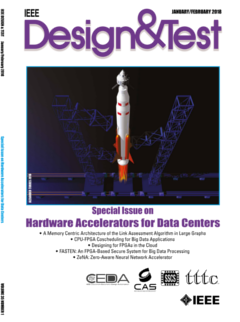 IEEE Design&Test Vol. 35, Issue 1
Speaker:

Special Issue on Hardware Accelerators for Data Centers

Location:

Date:

January/February
Highlights

Special Issue on "Hardware Accelerators for Data Centers"
Survey Paper by Muhammet Mustafa Ozdal " Emerging Accelerator Platforms for Data Centers"
Tutorial by Elke De Mulder, Thomas Eisenbarth, and Patrick Schaumont, " Identifying and Eliminating Side-Channel Leaks in Programmable Systems"
Perspective by Dimitrios Serpanos, " Secure and Resilient Industrial Control Systems"
Conference Report by Lothar Thiele and Soonhoi Ha, "The 2017 Embedded Systems Week (ESWEEK)"
Conference Report Report by Ibrahim (Abe) M. Elfadel and H. Fatih Ugurdag, "25th IFIP/IEEE Conference on Very Large Scale Integration (VLSI-SoC 2017)"
January/February 2018 Content
From the EIC
| | |
| --- | --- |
| • | Design and Test of Energy-Efficient, High-Performance, and Secure Computing Technologies via Accelerators |
| | View full article (PDF). |
Hardware Accelerators for Data Centers
•
A Memory Centric Architecture of the Link Assessment Algorithm in Large Graphs
Editor's note: Link Assessment is a commonly used algorithm for similarity detection in large graphs. This article proposes a custom hardware architecture that achieves substantially better performance and energy efficiency compared to existing architectures read more
View full article (PDF).
•
CPU-FPGA Coscheduling for Big Data Applications
Editor's note: FPGA accelerators integrated with general-purpose CPUs have brought opportunities to improve energy efficiency of data center workloads. This article addresses the problem of coordination between FPGAs and multicore CPUs for big data applications. read more
View full article (PDF).
•
Designing for FPGAs in the Cloud
Editor's note: This article proposes a flow to provision FPGAs from a pool of cloud resources. The proposed flow can lead to more efficient sharing of limited FPGA resources by enabling FPGA development and simulation in virtual machines. read more.
View full article (PDF).
•
FASTEN: An FPGA-Based Secure System for Big Data Processing
Editor's note: In cloud computing framework, the data security and protection is one of the most important aspects for optimization and concrete implementation. This paper proposes a reliable yet efficient FPGA-based security system... read more
View full article (PDF).
•
ZeNA: Zero-Aware Neural Network Accelerator
Editor's note: It has been observed that the majority of the kernel weights and input activations in the state-of-the-art convolution neural networks (CNNs) have zero values. This article proposes a CNN hardware accelerator that exploits this property to achieve significant performance and energy improvements. read more
View full article (PDF).
Survey Paper
•
Emerging Accelerator Platforms for Data Centers
Editor's note: CPU and GPU platforms may not be the best options for many emerging compute patterns, which led to a new breed of emerging accelerator platforms. This article gives a comprehensive overview with a focus on commercial platforms. read more
View full article (PDF).
General Interest Papers
•
Thermal Modeling and Validation of a Real-World Mobile AP
Editor's note: Thermal issues are plaguing high-performance systems because of their high power consumption, and mobile systems because of their form factor and compactness. Researchers have developed tools and design methodologies to model, predict, and optimize thermal aspects, but it has remained a challenge to validate them against real systems. This paper is valuable... read more
View full article (PDF).
•
A Fast and Jitter-Modulation Free Jitter Tolerance Estimation Technique for Bang- Bang CDRs
Editor's note: Analysis of jitter tolerance of CDR circuit is important for high-speed serial link design. This article presents a simple yet effective method for evaluating the tracking capability of CDR, which is applied to the analysis. read more
View full article (PDF).
Departments